mime herr loop
Sometimes regular spoken theatre can leave you bewildered, not fully understanding what you see and hear. Take a break: watch a mime show and you'll realise the power of silence. The artist makes audience members both young and old chuckle, smile and laugh heartily with his endearing mime, fascinating body language and physical expressions, all without the bother of speech.
Walk with Me

Mr Loop. A very excentric character turns the sidewalk into a catwalk

crazywaiter
Herr Loop, a mime character of a Viennese style waiter – he moves around, eager, willful and elegant. From one fauxpas into the next – a fussy person par excellence.
Herr Loop was serving his delicious laughter menu in several countries and excellent restaurants! Why he should not be within your menu? His apperiance will be a guarantee for an unforgetable evening.
An interacting walkabout show with the audience. Herr Loop on stage is also available as a 10 minute act.
More Characters can be developed!
bio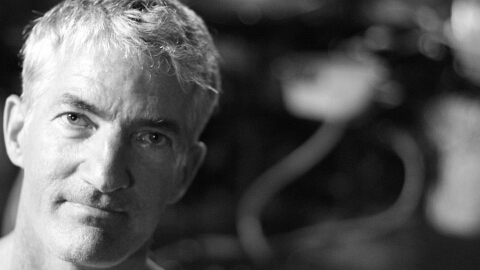 ulrich gottlieb
vienna/bangkok, born in 1964, germany
physical theatre practisioner, performer & teacher, visual artist, writer.
with a background in mime, followed by physical theatre and taiji quan, his body of work "loop-art" merges physical theatre, performance art with visual art, he performs and lectures physical theatre and taiji quan in europe and asia as well.
mime & physical theatre self-thaught and by werner müller, nürnberg & hiro uchiyama, paris.
taiji quan & qigong trained by lim chee choon, penang/ malaysia and chen liang yao, bangkok /thailand.
performances/ shows / workshops/ coachings/ lectures etc.
collaborations with dancers, painters and musicians etc.
physical theatre / taiji quan e.g.
bavarian theatre academy munich/germany
swu university bangkok / thailand, chulalongkorn university bangkok
ista international school theatre association (hong kong, beijing, singapore, bangkok, vienna, lisbon ...)
international dance festival bangkok
performance art center of penang/ malaysia
summer academy zakinthos/greece
wonderfruit festival thailand
international solo festival bangkok etc.
referenzen
Performances
(Selection)
"Zazou", Bavarian State Theatre Munich, R: Jerome Savary
"Public Transports" Prinzregententheater Munich
"Io sognio dunque piu" Metropol Theater Munich, Ch: Yvonne Pouget
Pomp Duck & Circumstances, Nürnberg, R: David Shiner
"Ballroom of lonely hearts" Actors Studio, Penang/ Malaysia
"sprachlos..." Bavarian Broadcasting Munich / Philharmony Cologne
"Till Eulenspiegel" Dir: Gerd Albrecht, Bavarian Broadcasting Munich
"The Boxes" Patravadi Theatre Bangkok/ Thailand
"Public Transport" International Dance Day Festival Bangkok
"Choices?" Bangkok Theatre Festival
Workshops & Gastlehraufträge
(Selection)
Bavarian Theatre Academy Munich
Srinakarinwirot University Bangkok/ Thailand
Chulalongkorn University, Bangkok/ Thailand
Summer Academy Greece
art forum Austria bank, Vienna
International Dance Festival, Bangkok/ Thailand
International Puppet Theatre Festival, Hydra/ Greece
Patravadi Theatre, Bangkok/ Thailand
"Creation"(Haydn) "Four Seasons" (Verdi) mime with kids
Penang Players Drama Group, Penang/ Malaysia
New International School, Bangkok/ Thailand
SEASAC Art Festival, Ruam Rudee International School, Bangkok/Thailand
Asia Pacific Highschool Festival, Uplands International School Penang/Malaysia
Theatre Festival Isny / Germany
Regent School, Bangkok/ Thailand
ISTA International School Theatre Association
Penang PAC, Penang/Malaysia
Bühnen, Festivals
(Selection)
Bavarian State Theatre Munich ("Zazou")
Salzburg Festival
Metropol Theater Munich
International Puppet Theatre Festival, Hydra/ Griechenland
International Festival Street Art, Linz
Munich Rundfunkorchester
Gürzenich Orchester, Philharmonie Köln
Kabarett Niedermair Wien
Gauklerfestival Koblenz
Festival Ana Desetnica, Ljubljana/ Slovenien
Tanzmetropole Festival, Munich
Actors Studio, Penang/ Malaysia
World Buskers Festival, Christchurch/ Neuseeland
Rotterdams Straatfestival/ Holland
Goethe Institut, Bangkok/ Thailand
International Dance Day Festival, Bangkok/ Thailand
BTF Bangkok Theatre Festival
The Royal Command Performance, Bangkok/ Thailand
Streeta(rt)nimation, Luxembourg
World theatre of the street, Schwerte
Limburg Festival/ Holland
Events, Medien
(Selection)
Bavarian Broadcasting
ORF Vienna
TV Channel 9, Bangkok/ Thailand
Kempinski Munich-Airport
UNICEF
Siemens
Porsche Austria
Nokia
LogiTec (Munich, Milano, Amsterdam, Paris, Zürich, Madrid)
Jack Wolfskin
Swarovski, Innsbruck
Q-Bar, Bangkok/ Thailand
Oriental Hotel, Bangkok/ Thailand
J&B, Chengdu/ China
Samsung, Bangkok
Samsung, Munich
British Embassy, Bangkok / Allen & Overy, London
Actebis Peacock, Germany
Konica-Minolta (European Leadership Conference)
Top
imprint: ulrich gottlieb vogelweidpl 4/21, a-1150 vienna/austria © 2000 - 2016